Alluvion Staff
Linda Nell Cooper
Mrs. Cooper works professionally as a director, choreographer, producer, and casting director, and is a member of the Society of Stage Directors and Choreographers. She served as the Executive Producer of The Miracle at The Miracle Theater in Pigeon Forge, TN, for seven years, is a commissioned writer/director for Fee-Hedrick Family Entertainment, Inc., and has served as a professional casting director for both movies and theater in New York City, Chicago, and Atlanta. Mrs. Cooper is a registered songwriter with BMI in New York City, and is a member of both The Dramatists Guild of America and The Gospel Music Association.
Besides being a winner of the Charles M. Getchell national award for playwriting, her lyrics for Rebel Cry were a finalist in the national Lehman Engel Musical Theater Competition in New York City in the fall of 2002. Rebel Cry was a national finalist in the 2003 David Mark Cohen Playwriting Competition sponsored by the Kennedy Center, and April Morning was a 2004 semifinalist in the Appalachian Festival of New Plays. Besides the musical, The Miracle, other works include Monte Cristo: The Musical, April Morning, Ribs for Dinner, June & Judd of the Blue Ridge, Fireflies, Who's Your Best Friend, Shenandoah Christmas, Christmas at the Five & Dime, One Holy Lamb, and To Each His Own. She has partnered with writers David Legg and John Painter on musicals, and also with Mike Speck on narration for his Christmas musicals. (Their collaboration on The Heart of Christmas resulted in a Dove Award nomination in 2005). She has also won a Manny Award for industrial documentaries for Share Your Love, which she both wrote and directed. She and her husband own Greenbrook Productions, Inc.
A professional director/choreographer of over 100 shows, her professional credits include: The Miracle (directed it for 5 consecutive years), Singin' in the Rain, Godspell, Guys & Dolls, West Side Story, The Music Man, Grease, Once On This Island, The Wiz, Hello, Dolly!, Joseph & The Amazing Technicolor Dreamcoat, The Will Rogers Follies, The Gifts Of The Magi, April Morning, Annie, Big River, Quilters, The Music Man, The Fantasticks, Oliver, The Wizard Of Oz, Meet Me In St. Louis, Brigadoon, School House Rock, She Loves Me, Seven Brides for Seven Brothers, Cinderella, Christmas At The Five & Dime (For LBN), Shenandoah Christmas (For LBN).
She is an Associate Professor of Theatre Arts and is the Chair of the Theatre Arts Department at Liberty University where she teaches such classes as Playwriting, Directing and Musical Theatre. Some of her academic directing credits include Macbeth, Steel Magnolias, Oklahoma!, Into the Woods, Wait Until Dark, Crazy for You, 12 Angry Men, Fiddler on the Roof, The Scarlet Pimpernel, Cheaper by the Dozen, Our Town, Ragtime, The Man Who Came to Dinner, The Complete Works of William Shakespeare Abridged, Beauty and the Beast, The Secret Garden, Aida, You're A Good Man, Charlie Brown, Parade, Little Women, Smoke on the Mountain, Thoroughly Modern Millie, My Fair Lady, Jane Eyre, Hairspray, and The Phantom of the Opera.
Mrs. Cooper has received twelve Kennedy Center American College Theatre Merit Awards for Excellence in Directing: April Morning, Monte Cristo, Beauty and the Beast, Secret Garden, Aida, Into the Woods, Thoroughly Modern Millie, West Side Story, Jane Eyre, Hairspray, Phantom of the Opera, and Oklahoma!.
Past Alluvion productions she has directed: Peter Pan, Tarzan, Les Miserables, Kindertransport, Mary Poppins, The Little Mermaid, The Secret Garden, Sister Act, Beauty and the Beast, The Hunchback of Notre Dame, Joseph and the Amazing Technicolor Dreamcoat, Newsies, Big Fish, Hello, Dolly!, The Will Rogers Follies, Bright Star, Parade, A Christmas Carol: The Musical, and Fiddler on the Roof.
Mark Howieson
Production Manager & Production Designer
Mark Howieson earned an MFA from Carnegie-Mellon University in Technical Production. He has previously held faculty positions in the theatre departments at the University of North Carolina, Greensboro, the University of Florida, and the University of North Carolina, Charlotte. His professional credits include the Grove Shakespeare Festival in California, Great Lakes Theatre Festival in Cleveland, Minnesota Opera in Minneapolis, and Sea World of Ohio. As a technical director, he has over 175 shows to his credit.
Mr. Howieson also serves as Scenic Designer for Alluvion and for multiple Academic productions in the Department of Theatre Arts at Liberty University.
Nate Klein
Assistant Technical Director & Props Manager
Nate Klein graduated from Gardner-Webb University in Boiling Springs, NC with a BA in Communications, with an emphasis in Television and Radio. He was first introduced to Theatre through the GWU work study program as a student. It was during those four years he developed a stronger passion for Theatrical arts, film, graphic design, and special effects.
Klein humbly thinks of himself as a jack of all trades when it comes to theater and film. He is always ready to lend a helping hand, and constantly looks for ways to refine his craft.
Greg Vinson
Sound Designer
Greg Vinson is a graduate of Full Sail University with a degree in Recording Arts. After graduating, his sound experiences included radio, film, music, and corporate A/V.  He developed a love for theatre as Audio Technician at Busch Gardens, and continued to enhance his abilities as Sound Design/Engineer Manager for Royal Caribbean International Cruises.
Mr. Vinson is also an accomplished musician and songwriter with many professional credits to his name.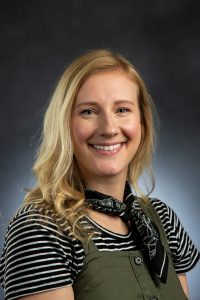 Lynne Forth
Head Costume Designer
Lynne Forth serves as the Head Costume Designer for the Department of Theatre Arts at Liberty University and Alluvion Stage Company.
In 2010, she received her degree in Fashion Merchandising and Interior Design and went on to complete her graduate degree in Strategic Communication in 2014. It was during her college years that she started to pursue sewing and design, never dreaming it could lead to a career in theater.
After graduating from Liberty University, Lynne began working as Assistant Costume Manager in 2011. She instantly fell in love with costuming and how garments can be used to tell stories. In fall of 2018, she stepped into the role of Head Costume Designer. Her favorite designs include Bright Star, Crazy For You and A Midsummer Night's Dream. Lynne has earned two Kennedy Center Meritorious Achievement Awards for Excellence in Costume Design, for her work on the Rivals (2014) and Arsenic and Old Lace (2018).
In her free time, Lynne enjoys spending time with her husband, two young boys and their dog Phoebe.