Alluvion Guest Staff
Dr. Kathryn Wert
Music Director, Orchestra Conductor
Dr. Kathryn Wert, originally from Minnesota, is a professor in the School of Music at Liberty University. Dr. Wert  has performed as a flautist and conducted ensembles in Europe, China, and across the United States. She has also worked extensively as an accompanist, and been in demand as a music director at professional and regional theaters in New York, Colorado, and Pennsylvania. In 2011 she was Music Director of the Amici Opera Company in Philadelphia under impresario Raffaele Tudisco, where she performed on piano 18 operas in a single season. Her recent doctoral dissertation focused on the musical theater style of Jason Robert Brown, and she frequently performs and lectures on his musicals.
Dr. Wert also spent three wonderful years teaching high school in Pennsylvania at the Lehigh Valley Charter High School for the Performing Arts and Faith Christian School. There, she taught band, orchestra, choir, music history, music theory, and musical theater. She holds a DA in wind conducting from the University of Northern Colorado. Dr. Wert received a Bachelor of Music in Piano Performance from Bethel University in Saint Paul, MN, and a MA in Music Education at the Eastman School of Music in Rochester, NY. In the summer of 2017, she was the music director for the Lyric Opera program in Piobbico, Italy, a program designed to train students in dramatic musical performance.
At Liberty, Dr. Wert directs the University Band and teaches courses in music theory, music education, and applied piano. Recent credits with the Alluvion Stage Company include Parade, Bright Star, Hello, Dolly!, Big Fish, and more!
Brance Cornelius
Choreographer
Originally from the neighboring commonwealth, Kentucky, Brance is a graduate of Murray State University, with a Bachelor of Arts in Theatre, minoring in Dance/Movement. Alluvion audiences will have seen his choreography in Bright Star, Parade, The Will Rogers Follies (at the Academy Center for the Arts) and last year's A Christmas Carol.  He has worked on the other side of the footlights for over twenty years, from national and international tours, to dinner theatres, regional theatres and a steamboat along the Ohio & Mississippi Rivers. But for the past half decade he lived among the snowbirds in Central Florida, working with Disney Cruise Line, SeaWorld, Universal Studios and the Walt Disney World Resort.  As an actor, some of his favorite roles include "Uncle Fester" (The Addams Family), "Papa Who" (How the Grinch Stole Christmas: The Musical) and "The Baker" (Into the Woods). During the pandemic, Brance served as the Education Director at Theater West End, leading their youth program: West End Prep.  While at TWE, he directed and/or choreographed The Addams Family, Holmes & Watson: The Game's Afoot, Seuss on the Loose, Spring Awakening, Legally Blonde, Little Women and Urinetown. Other Direction/Choreography credits include: The Andrews Brothers, The Hound of the Baskervilles, Little Shop of Horrors, Lucky Stiff, Nunsense Amen, Pump Boys and Dinettes, Seven Brides for Seven Brothers, Steel Magnolias, The Winter Wonderettes & his original adaptation of Charles Dickens' holiday work: Ghostlight (co-written with Kari Ringer).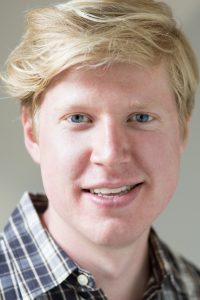 Timmy Williamson
Assistant Music Director
Timmy Williamson was born in Norfolk, Virginia and spent most of his childhood in Virginia Beach where he cultivated a love for music and theatre. In 2009, he began his undergraduate studies at Liberty University where he studied worship music. After auditioning for several musicals at Liberty, Timmy eventually declared a theatre minor which then turned into a second major because he was just having too much fun performing!
At Liberty, Timmy performed in numerous musicals including Ragtime, Oklahoma, Phantom of the Opera, and Sanders Family Christmas. He has also performed with Alluvion Stage Company in many shows such as Peter Pan, Beauty and the Beast, Bright Star, and Parade.
While theatre is an important part of Timmy's life, he is also passionate about church music and encouraging the body of Christ. He has traveled and sung in churches throughout Virginia and has released three recording projects. He served as Music Director for Swift Creek Baptist Church in Colonial Heights, VA and served for nearly five and half years as Director of Communication in the Liberty University School of Music. He is currently filling-in as worship leader for the Rocky Mount campus of Franklin Heights Church.
Timmy holds a B.A. in Theatre Arts: Performance and a B.S. in Music and Worship: Christian Music Artist and Songwriter from Liberty University. In 2020, he earned his M.A. in Music & Worship: Commercial Music Performance from Liberty.
He is excited to present this heartfelt story with Alluvion! Romans 10:9